The all-new Mercedes-Benz B-Class has been revealed at the 2018 Paris Motor Show. Let's see what it has to offer.
When the Mercedes-Benz A-Class moved from frumpy MPV to upmarket hatchback, there was a void in practical MPV segment. Enter the B-Class, a practical and sensible family vehicle boasting all the luxury features you'd expect from a Mercedes-Benz but with a family bent.
For 2018, an all-new model has debuted at the 2018 Paris Motor Show. It shares the same underpinnings as the new Mercedes-Benz A-Class, but it boasts loads more practicality. Given how MPVs have never been the prettiest of cars, Mercedes-Benz has tried to make its new B-Class interesting. In an effort to make its cabin more spacious, the B-Class has an extended wheelbase of 2 729 mm which is about 30 mm longer than the A-Class. Mercedes-Benz says it will be adding in a model that will feature a sliding second row of seats, which will do wonders for practicality. Inside, the smart and futuristic MBUX infotainment system makes its debut. We've had experience with it in the new A-Class and can only say good things about it. It's truly a huge leap forward for in-car connectivity.
In terms of engines, there will be a choice of five. Two petrols and three diesel engines are available, with the entry point being the B180 which boasts 100 kW and 200 Nm from a turbocharged 1.3-litre petrol engine. This engine comes in two versions and the second has outputs of 120 kW and 250 Nm. Despite the negativity of diesel, Mercedes-Benz will continue to offer oil-burning derivatives. There's a 1.5-litre B180d which has 85 kW and 260 Nm, and a new 2.0-litre diesel engine which is available in two states of tune: 110 kW / 320 Nm and 140 kW / 400 Nm.
Every new Mercedes-Benz B-Class comes in automatic, with the majority using 7-speed dual-clutch 'boxes, while the high-spec diesel uses an 8-speed dual-clutch automatic. Mercedes-Benz says all-wheel-drive (4Matic) will be introduced at some point in 2019, but its unlikely to make its way to South Africa. Under the skin, the B-Class has a torsion beam rear suspension, but the top-spec models feature multi-link setups. In terms of trim, you can expect AMG Line and Sport editions. The Mercedes-Benz B-Class should land in South Africa before the middle of 2019.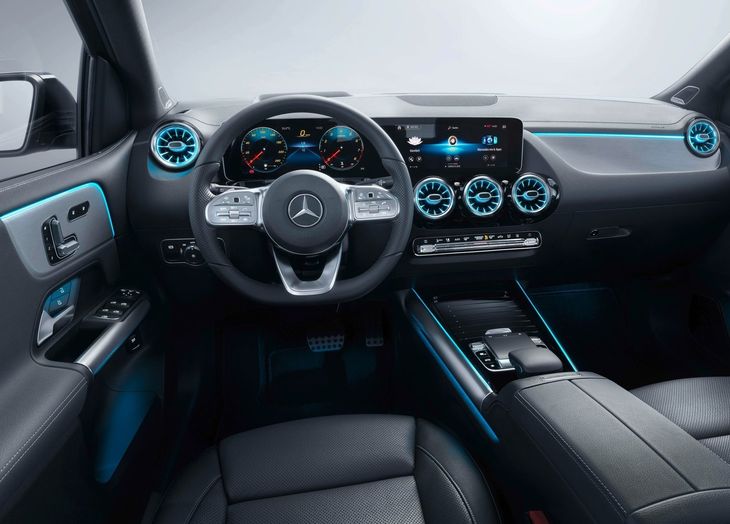 The new Mercedes-Benz B-Class has the same MBUX infotainment as the A-Class
Want to buy a Mercedes-Benz B-Class?
Browse new and used stock here
Further Reading
Mercedes-Benz B-Class B250 (2015) Review