Following success in several other high-profile events, the Alfa Romeo 8C 2900B that emerged victorious at the recent Concorso Eleganza Villa d'Este could be the world's most celebrated car.
Could David Sydorick's 1937 Alfa Romeo 8C 2900B be the most exquisite car in the world? Not only did it win the Trofeo BMW Group for "Best of Show" at this year's prestigious Concorso d'Eleganza Villa d'Este in Italy, but also the audience-voted Coppa d'Oro. But that's not all... It also won "Best of Show" at last year's Pebble Beach Concours d'Elegance and "Best of the Best" at the Peninsula Classics in Paris in February. It's a truly magnificant machine that after all of these awards must be just about priceless.
It's not the owner's first win at Villa d'Este. Sydorick already won the title of "Best of Show" with another Alfa Romeo from his collection in 2015. "I have won a lot of prizes with my automobiles, but this vehicle really fulfils all my desires. The Best of Show here at Villa d'Este is like receiving a knighthood," were the words of a delighted Sydorick at the award ceremony.
This 8C 2900B is one of only 30 vehicles built in this series and sold by Alfa Romeo between 1937 and 1940. The chassis of the immensely successful racing cars provided the platform and an inline all-alloy 8-cylinder engine provided the power. The advanced engine (for the time) featured 2 overhead camshafts and twin-supercharging to deliver 180hp (around 134kW). Independent suspension and a rear-mounted gearbox were additional advanced features. This particular car is the first of just five vehicles with a long wheelbase and is clothed in stunning Superleggera coachwork by Carrozzeria Touring.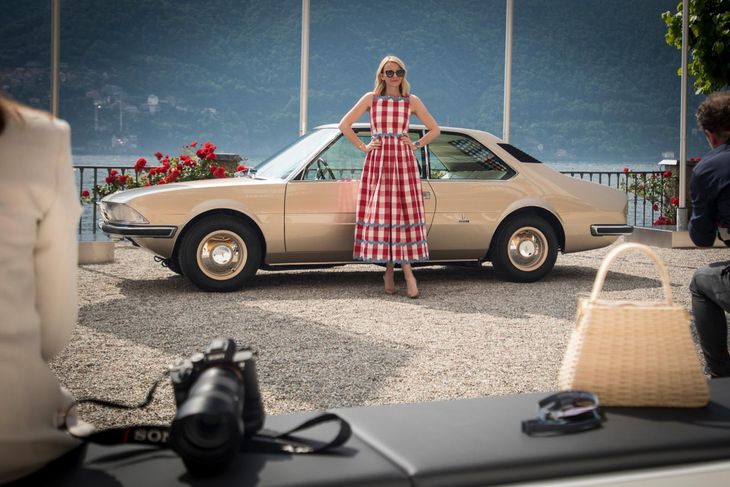 BMW unveiled its Garmisch concept car at Villa d'Este, a stunning remake of the original concept that went missing in 1970.
The glamorous Concorso Eleganza Villa d'Este, which takes place annually on the banks of Lake Como in Italy, celebrates 50 of the world's most stunning cars every year, and this year the variety was jaw-dropping. BMW (a co-sponsor of the event) even recreated one of its historic concept cars, the Marcello Gandini-penned "Garmisch", a striking prototype sedan that went missing in 1970, for special display against the backdrop of the historic Villa d'Este.
Full list of winners
Trofeo BMW Group - Best of Show by the Jury
Alfa Romeo 8C 2900B, Berlinetta, Touring, 1937, David Sydorick (US)
CLASS A: GOODBYE ROARING TWENTIES: THE BIRTH OF THE CONCORSO
Class Winner
Vauxhall 30 / 98 Type OE, Boattail Tourer, Vauxhall, 1925, Peter Goodwin (US)
Mention of Honour
Lancia Lambda Serie VIII, Four-Seater Torpedo, Lancia, 1928, Anthony MacLean (CH)
CLASS B: FAST FORWARD: A QUARTER CENTURY OF PROGRESS
Class Winner
Alfa Romeo 8C 2900B, Berlinetta, Touring, 1937, David Sydorick (US)
Mention of Honour
Bugatti 57 S, Four-Seater Sports Tourer, Vanden Plas, 1937, Robert Kauffman (US)
CLASS C: SMALL AND PERFECTLY FORMED: THE COACHBUILDER'S ART IN MINIATURE
Class Winner
Fiat Abarth Monomille GT, Coupé, Sibona-Basano, 1963, Shiro Kosaka, (JP)
Mention of Honour
Abarth 205 Sport 1100, Berlinetta, Ghia, 1953, Bradley Calkins (US)
CLASS D: A NEW DAWN: INTO THE ROCK'N'ROLL ERA
Class Winner
Mercedes-Benz 300 SL, Coupé, Mercedes-Benz, 1954, Matthias Bonczkowitz (DE)
Mention of Honour
Siata 208 S, Spider, Motto, 1953, Jan de Reu (BE)
CLASS E: SWINGING SIXTIES: THE SKY'S THE LIMIT
Class Winner
Ferrari 250 GT California Spyder SWB, Spider, Pininfarina, 1961,
Tony Vassilopoulos (GB)
Mention of Honour
Ferrari 250 GT Berlinetta SWB Competizione, Berlinetta, Pininfarina, 1960,
William Loughan (GB)
CLASS F: BABY YOU CAN DRIVE MY CAR: MUSICAL STARS' CARS
Class Winner
Lamborghini Miura P 400 S, Coupé, Bertone, 1971, Luca Taino (IT)
Mention of Honour
Porsche 959, Coupé, Porsche, 1988, Giovanni Andrea Innocenti (CH)
CLASS G: SPEEDING AGAINST THE CLOCK: ENDURANCE RACING LEGENDS
Class Winner
Ferrari 166 Mille Miglia, Barchetta, Touring, 1949, Brian Ross (US)
Mention of Honour
OSCA MT4 1450, Barchetta, Frua, 1953, Hidetomo Kimura (JP)
CLASS H: DARING TO DREAM: CONCEPTS WHICH ROCKED THE MOTORING WORLD
Class Winner
Lamborghini Marzal, Four-Seater Coupé, Bertone, 1967, Albert Spiess (CH)
Mention of Honour
Vivant 77, Roadster, "The Beatles of Troy, Michigan", 1965, Phillip Sarofim (US)
You may also be interested in
SentiMETAL Ep9: Alfa Romeo GTV6 3.0 (video)
6 cars that rocked the SentiMETAL OutRun (Gauteng)
Stunning Lamborghini Miura SV restored