Alfa Romeo's Volkswagen Golf GTI rival feels like it's been around forever. Has the recent update to the model previously known as the Quadrifoglio Verde given the Alfa a fighting chance in a very competitive segment? We test the top-spec Veloce model to find out.
We like: its sporting heart, good engine and transmission, distinctive interior design.
We don't like: Chassis feels old, lack of oddment space, lacks modern features.
Alternatives:
The default choice: Volkswagen Golf GTI package is hard to fault, but with an asking price of R550k, the headlining hot hatch is beyond the reach of many buyers.
For more luxury: Opel Astra 1.6T Sport is a well-specced, all-rounder with a strong turn of pace. However, it's available in manual only and Opel's future in SA is unclear.
For something sporty, but not overly so: Volvo V40 T5 is a good looking car with a powerful engine and a lush interior. It's no driver's car... if that's what you're after.
Compare the specifications of the Giulietta Veloce with those of the Volkswagen Golf GTI and Opel Astra 1.6T Sport Plus.
Facts & figures
Price: R479 900 (June 2017)
Engine: 1 750cc 4-cylinder turbopetrol
Transmission: 6-speed dual-clutch
Power: 177 kW
Torque: 340 Nm
Fuel consumption: 6.8 L/100 km
0-100 kph: 6.0 seconds
Top speed: 244 kph
What is it?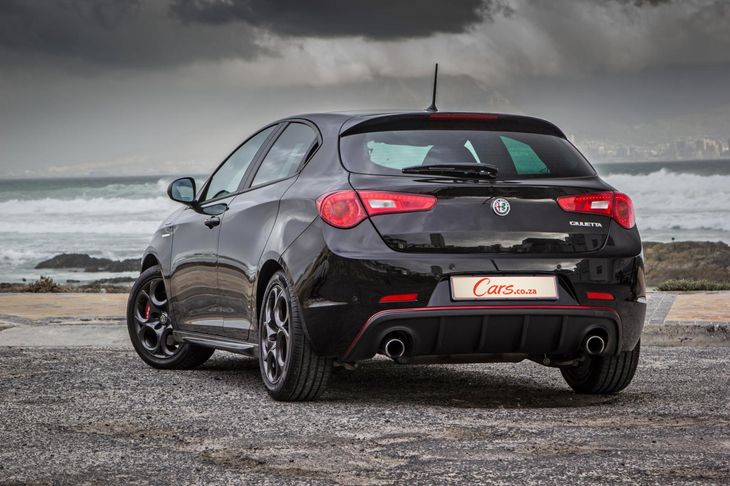 Red striping and twin pipes distinguish the Veloce model. Giulietta badge has been moved to the right (previously it was in the centre).
The Veloce is not a Quadrifoglio, but it used to be; Alfa saw it fit to change its name for this facelifted model. The mid-life revision to the Giulietta rings in a new infotainment screen that's lifted from the Jeep Renegade and Fiat 500X, plus the exterior receives some sporty enhancements such as the red striping on the bumpers, red brake callipers and twin tailpipes.
The good
Engine and gearbox: When we first experienced the 4C-derived 1,75-litre turbopetrol engine in the Giulietta Quadrifoglio, it felt as though Alfa Romeo had pursued lofty power figures at the expense of driveability. That Alfa would spin up its wheels crazily; it effectively created a binary driving experience where you were forced to choose between living with mad front-end wheelspin (let alone understeer) and quietly pottering along in traffic. There was nothing in between – no cruise mode or semi-attack mode.
Now, with the addition of the dual-clutch automatic transmission and what feels like a revised engine mapping, the Veloce has that middle ground option. The engine delivers good mid-range torque and there's a pleasing snarl to the induction sound. The twin-clutch 'box, whilst not quite up to the refinement of the Golf's DSG, is probably on par with the offerings from the Giulietta's other competitors. The handling still remains a little anodyne, however. You always feel like this Giulietta could be a great car if it was more rewarding to drive in the corners.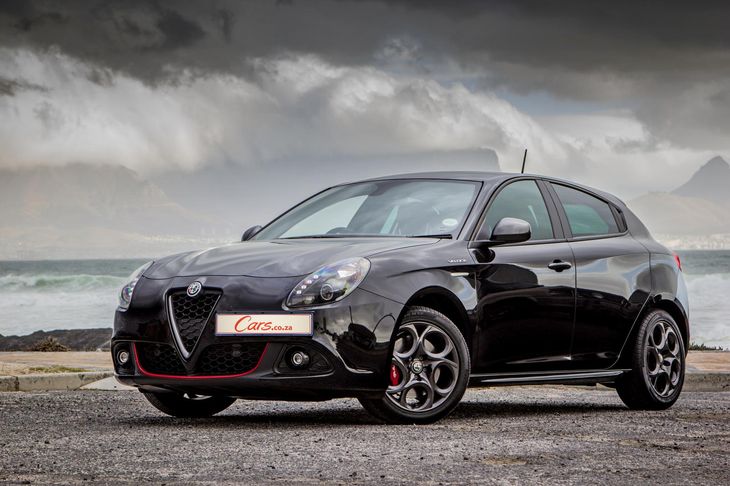 The engine's power delivery feels less sporadic and more evenly spread across the rev range.
Interior design: The Giulietta's interior has always had an artistic flair to it. It looks premium and, for the most part, feels premium (and inviting). The instrument cluster doesn't feel like it's been pressed into place by a charmless robotic arm, the dials look crafted by an artisan and the interior ambience engenders that intangible exotic aura that makes Alfa Romeos so special. The same applies to the seats, which are trimmed in Alcantara mixed with leather; the cockpit's a sporty-but-stylish place to occupy. And then, just when you're starting to love everything inside, Fiat Chrysler Automobiles wedges a mass-produced brick of an infotainment screen in the heart of the fascia that "ruins" the cabin's look. Classic Alfa, right?
The bad:
Showing its age: The Veloce may be a new model replete with a raft of updates, but its credentials as a hot hatch end at it 6.0-second 0-100 kph time. It doesn't ride as comfortably over bumps as a Golf, Astra or (Renault) Megane and it doesn't feel as supple when you coax it into a bend with gusto. You want it to handle well (because it's an Alfa Romeo!), but there's nothing exciting about waiting for the front end to grip on turn-in, only to get your face pressed against the side window and feeling the front end push wide when you attempt to put the power down on corner exits. The Giulietta does come from as far back as 2010, so it's hardly surprising that it struggles to match the competition in the ride and handling department.
Poor practicality: It's not so much the size of the luggage bay that's the problem, nor the amount of rear legroom available, for that matter... the Giulietta is quite acceptable in those aspects. The hatch can accommodate 350 litres of cargo and 3 adults can sit in the back quite easily. It's the minuscule oddments storage space that annoys. There's nowhere in the front to store your keys, phone and wallet. If you happen to want to wedge a bottle in the drinks holder you better buy a small one, because that's the only size that will fit in the tiny recess.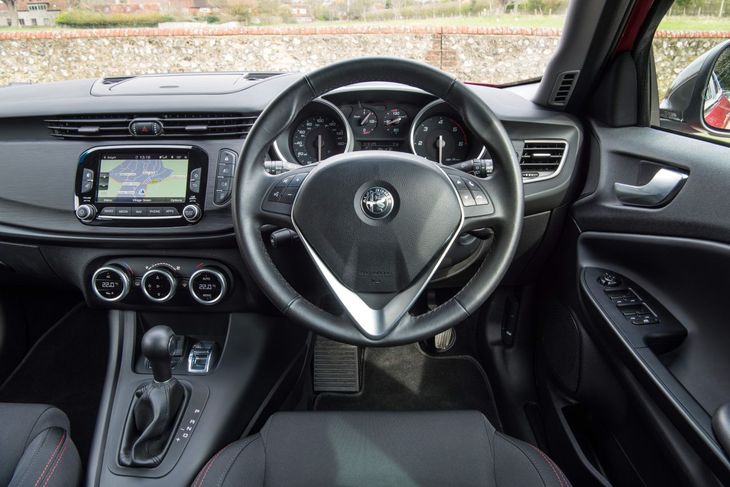 Individualy, there are some nice parts to the interior, the seats and instrument binnacle are good for example. The infotainment system looks aftermarket.
Verdict
If you're considering an Alfa Romeo, it's almost certainly because you want something different, an eye-catching, sporty machine that will stand out of the crowd of humdrum, so-so looking hot hatches. The Giulietta appeals with its sporty exterior, and in the test unit's metallic black finish it looks vivacious – as an Alfa should. The interior is a lovely place to sit with Alcantara, leather and soft-touch materials abound. The build quality appears good too but its infotainment system is an eyesore and there are not enough places to stash your detritus.
By contemporary standards, the Giulietta's handling, despite a sporty suspension setup, feels imprecise, almost blunt and a bit too uncompromising considering the lack of sporty talent the car's underpinnings actually possess. The Veloce descends into understeer too early and leaves you underwhelmed after a session in the bends. A chassis update would do the hatchback some real good as much newer competitors have found excellent compromises between sport and comfort modes. The Giulietta's showing its age; it flatters to deceive.
Related content:
Preview: VW Golf 8 and GTI coming in 2019
Volkswagen Golf 7 GTI & GTD (2017) First Drive
Comparative Review: Opel Astra 1.6T Sport vs Renault Megane GT Turbo
Alfa Romeo Giulia Quadrifoglio (2017) Video Review
Interested in buying a Giulietta?