Mercedes-AMG has revealed technical details of its much-anticipated hypercar that will bring F1 technology to the road and it's expected to make its debut later this year at the Frankfurt Motor Show in September 2017.
You'll want to save the date for this 'One'! Mercedes-Benz is planning on showing its latest hypercar creation, dubbed Project One, at the 2017 Frankfurt Motor Show later this year. The Project One hypercar will essentially be a Formula One car fit for the road and according to AMG, it will feature a "perfect" and "stunning" design. Furthermore, AMG says that its new hypercar will probably be "the most fascinating two-seater that will ever hit the road."
Powertrain details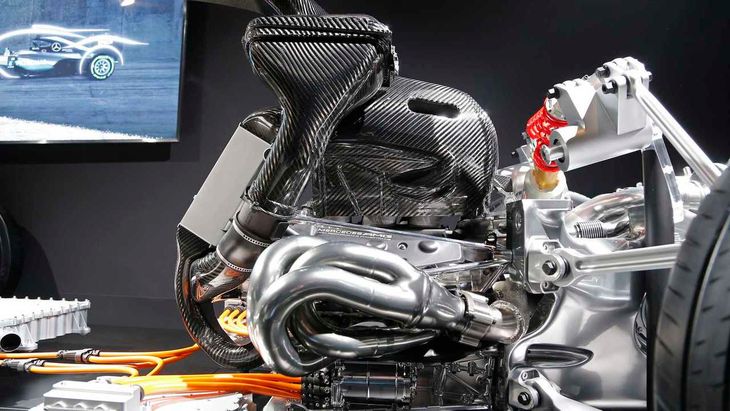 With no less than 745 kW and a redline limit set at 13 500 rpm, the Project One hypercar is a technological marvel.
The Project One hypercar will feature a hybrid powertrain comprising an F1-derived, turbocharged 1.6-litre V6 engine from the championship-winning WO7 Hybrid, coupled with a "purely electric and wheel-selective front axle drive concept". The engine will idle at 4 000 rpm and will redline at an eye-watering 13 500 rpm. According to reports, the engine will be good for at least 50 000 km before needing a rebuild
The engine will work in conjunction with 2 electric motors. The first 80 kW electric motor is tasked with keeping the turbocharger on the boil at all times while the second 120 kW motor is linked directly to the crankshaft. An additional 2 electric motors at the front axle will allow for pure electric driving with a range up to 24 km on electric power alone.
The Project One hypercar will develop more than 746 kW and will make use of a single clutch 8-speed transmission to lay power to the road.

Mercedes-AMG celebrated its 50th Anniversary over the weekend and the Project One hypercar is the perfect way to commemorate this milestone. Production is limited to 275 examples and all of them are already sold. Testing is due to commence soon before the big reveal at the Frankfurt Motor Show later this year. The price tag for the Project One hypercar is estimated at about $2.5 million, or almost R34 million.

We will keep you updated as more details are revealed, so stay tuned!

Related content

Jaw-dropping GT C Coupe Joins AMG GT Family
Mercedes-AMG GT R (2016) First Drive
New Mercedes-AMG GT Models to Order in SA
Mercedes-AMG E63 S 4Matic (2017) First Drive

Want to buy a Mercedes-Benz?