South Africans love SUVs and there is scarcely a better summer car than an open-top SUV! Here are the Top 5 you want.
Although September has proved a month of snow in parts of the country, we are inevitably transitioning towards summer and that means the opportunity for open-top motoring. It's a symptom of being spoilt by an abundance of sunshine that South Africans take convertible vehicles for granted. In Europe, if the sky is blue, they'll retract their vehicles' roofs (if they can) no matter the temperature, but we very rarely embrace our magnificent open-top motoring environment with quite the same commitment.
Understandably, the likelihood inner-city smash-and-grabs increases if you are exposed without a roof in place, but that's still not quite enough of an excuse.
South Africa should be Convertible Country and the best vehicles to absorb our magnificent landscapes, and nature, are SUVs. If you intend to cruise through Ballito-ville or Camps Bay this summer, an open-top SUV makes parking that much easier; you can always roll up a kerb. Conversely, if you are journeying from Gauteng to Cape Town through the Karoo – it's an amazing experience for passengers, at night, having the opportunity to look up at a night sky awash in stars, with the top down.
So, we've done the homework for you and listed 5 great ragtop SUV ideas to make your Mzansi summer an unforgettable one.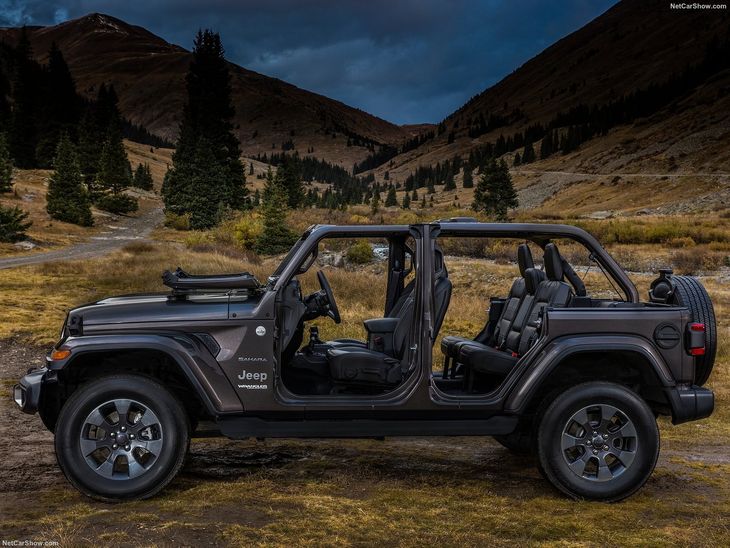 You'd imagine that all removable-roof SUVs would be soft-roaders... vehicles designed for kerbside posing at best... but not this. Jeep's reputation for off-roading excellence isn't accidental or the result of targeted saturation marketing. The Jeep Wrangler ranks among the most capable hardcore off-road vehicles you can buy for civilian use and the neat aspect of an Unlimited is that it has 4 doors and comfortable seating for 5 occupants.
Search for a used Wrangler here
Engine options are either a 2.8-litre inline-4 turbodiesel (147 kW/460 Nm) or Jeep's more responsive 3.6-litre Pentastar V6 petrol, which revs with greater linearity to produce 209 kW and 347 Nm. Both engines drive through a 5-speed automatic transmission and in the 4-door Unlimited configuration, you'll have all the associated off-road goodies too, such as low-range, a rear differential lock and Dana heavy-duty axles. There is simply no kerb you cannot mount, with your entourage, in one of these.
Although removing the roof isn't really the work of a moment (don't try it by yourself, do budget for 25 minutes without practice). The Wrangler Unlimited comes into its own as a convertible. Hidden in the roll-over safety architecture are superb Alpine speakers, with a total of 9 speakers combining to offer 552 Watts of sound.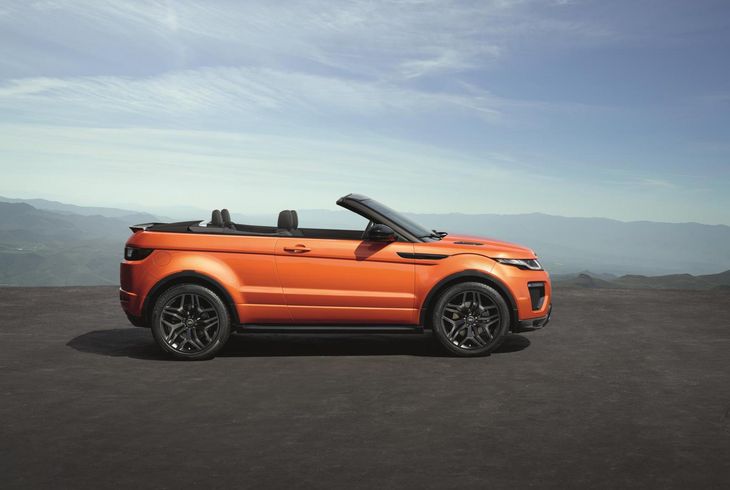 If you don't quite need the Wrangler's low-range rock-crawl gearing and prefer boutique style and absolute drivetrain refinement, Land Rover does quite a convincing version of its baby Rangey – replete with a soft-top. An electro-mechanically operated roof saves you any do-it-yourself disassembly administration and there is never any risk of getting drenched if a sudden Highveld thunderstorm interferes with your journey. A simple cabin pushbutton function can retract the fabric roof in only 18 seconds, and have it up and secured into place again, 21 seconds later.
Search for a used Evoque Convertible here
True to its billing as the urbanite's Range Rover, the Evoque's styling appears to have been drawn with an eventual convertible configuration in mind. The 2-door profile looks great and the 177 kW/340 Nm 2.0-litre turbocharged Ingenium engine (177 kW/340 Nm), mated with a 9-speed auto box, moves the vehicle along gracefully.
Debits? Not light on fuel, though, at a kerb weight of 2013 kg and without the rigidity of a fixed metal roof, you'll notice it doesn't flow as crisply through corners, and roll as gracefully over bumps, compared with other Evoques. That said, there is no better Camps Bay Beach Road poser than one of these. Especially a burnt orange one.

Land Rover SVX 90 soft-top R500k plus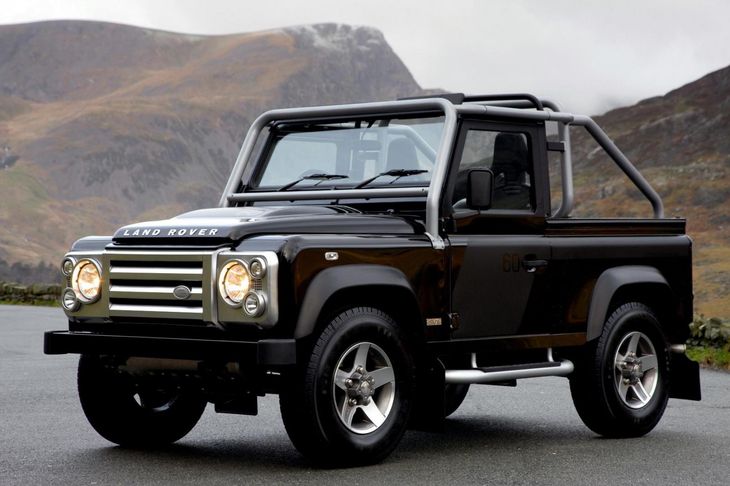 With the iconic Defender no longer in production, values of Land Rover's original vehicle line's derivatives are increasing. True to their military adaptability, there have always been soft-top Land Rovers: through Series 1, 2, 3 and the final Defender.
You could try one of the pre-Defender soft-tops, but they aren't great as daily drivers. For those who prefer the convenience of power-steering and shifting gears with the assistance of synchromesh, that Defender of destiny is Land Rover's 60th-anniversary SVX special edition. These short-wheelbase convertibles are prized by collectors and command a premium, with only 1800 SVXs ever built and of that number, only about half were 90s... and very few found their way to South Africa.
Search for a used Defender soft-top here
With bright grilles and special-edition wheels, SVX 90s are both disarmingly cute and wonderfully capable off-road. They sport mechanical upgrades too, with custom dampers, which make the most of Land Rover's 4-corner coil suspension, and deliver a level of ride quality that's a touch superior to those of other Defenders.
Perhaps the Defender SVX's greatest appeal is Recaro semi-bucket seats. Vastly more comfortable than anything fitted (as standard) to Land Rover's workhorse 4x4 through the decades, they are ergonomically padded and fixed to slightly revised mounting points – which does much to alleviate the Defender awkward driving position.

Toyota RAV4 3-door convertible (R80 000)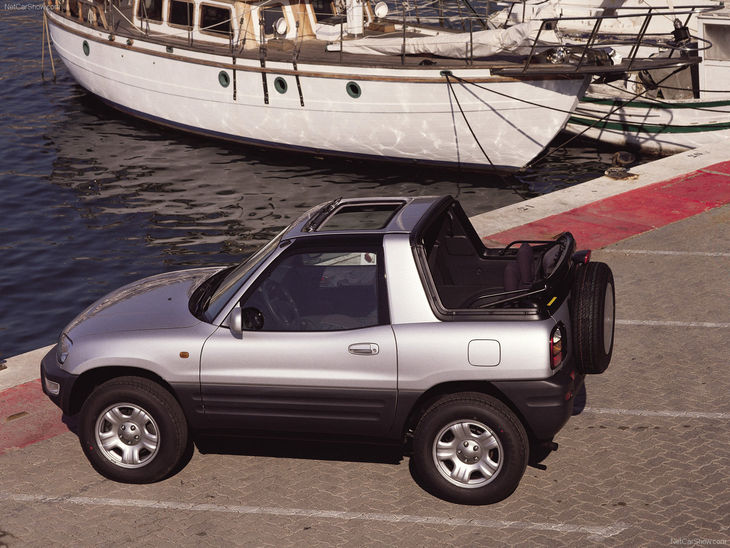 Toyota never received enough credit for its original RAV4, a vehicle that established the compact SUV/crossover category in South Africa, long before any marketing people had invented those catchphrases. The original RAV4 featured uncharacteristically daring Toyota design, with characteristically bombproof Toyota mechanical components. If you are looking for a true 1990s gravel-travel icon to arrive at the Neighbourgoods market in Braamfontein or a Woodstock's design bureau, this is it.
Rarest of all 1st-generation RAV4s, were the 3-door convertibles. Two decades after they first appeared on local roads, the original RAV4 still looks strangely contemporary... and by virtue of being endowed with Toyota Camry mechanical bits, they prove ridiculously reliable too. Indulge all the 1990s irony with one of these.

Suzuki Samurai SJ413 (R75 000)
The new Jimny's local launch is less than a month away, and if you are dedicated in your search, there are still some rust-free versions of its SJ-series forebears to be found. And yes, of course, some of them were canvas-roofed.
What you are seeking, ideally, is not the earlier, 2nd-generation SJ with vertical grille slats, but the later SJ413, introduced locally in the early 1990s, with a mesh grille and Suzuki badge floating on one horizon grille bar.
The earlier 1980s SJs are courageous little 4x4s, but unfortunately, they were tragically rust-prone too – and many have met an untimely end as beach house vehicles.
Search for a used Suzuki Jimny here
Suzuki's better mini-SUV sun-seeker is a later Samurai, which is a better vehicle in almost every possible way. These SJ413s were vastly more rust-resistant than the earlier SJ-series cars and they also happen to be powered by larger engines, which offer more poke. Having said that, we are still talking of a 47 kW 1.3-litre engine!
Monumentally capable off-road, if a touch uncomfortable due to the leaf sprung front/rear suspension configuration and micro-car wheelbase, there is no summer venue with a parking problem the Samurai can't solve...
Related content
5 Moments that Defined the Suzuki Jimny
Range Rover Evoque Convertible (2017) Quick Review
The Journey Mozambique - The Search for Sunken Land Rovers