Volvo's executive sedans have never quite matched the popularity of their German-made rivals, at least not in South Africa. However, the new S90 is significant: it's not merely a boldly-designed newcomer, it demonstrates the Swedish marque's resurgence in terms of product development, technological features, powertrain efficiency, and, of course, safety.
1. It proves there's life after the XC90
Volvo doesn't want to be the motoring equivalent of Right Said Fred; a one hit wonder with no real future. The multi-award-winning XC90 (including the Best Premium SUV in the inaugural Cars.co.za Consumer Awards) laid down a market and now the S90 shows that the Swedish manufacturer can produce attractive, inspiring cars in all shapes and sizes. The bold styling of the XC90, both inside and out, has been successfully carried over into sedan form and importantly for the bean counters, the S90 proves that the highly modular chassis underpinning the XC90 and the S90 was a good idea.
2. It wants touchscreens to be the future
Volvo's key rivals, Audi, BMW and Mercedes-Benz all offer comprehensive infotainment systems with one key characteristic in common: none of them use touchscreens. All the German systems employ a number of buttons, a jog wheel and, as of recently, a touch-sensitive interface positioned near the driver's thigh.
As with the XC90, the S90 makes use of Volvo's superb vertically-orientated touchscreen interface, mounted at an angle facing the driver, and a comfortable distance away. The system does away with any physical buttons, save for a volume knob and the hazards, which has to be a physical button for legal reasons. Volvo's system is the best touch based-system we've come across, but it will be interesting to see if it's good enough to turn the tide of opinion amongst the establishment.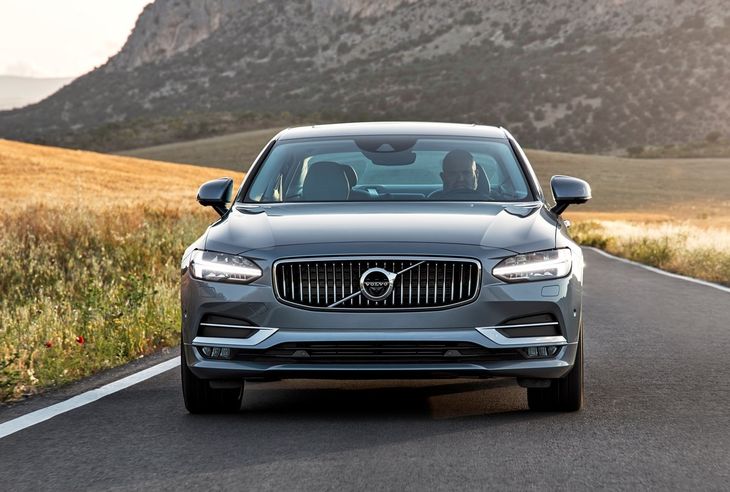 Thanks to twin-charging technology, the S90 requires to bigger than a 2.0-litre engine.
3. It shows big cars don't need big engines
The largest engine powering the S90 and V90 has a displacement of 2.0 litres. That's it. Customers can choose from a turbopetrol or turbodiesel in various states of tune. All of Volvo's petrol Drive-E engines develop their power via twin-charging: a belt-driven supercharger develops boost at low rpm until the turbocharger is up to speed and takes over. The result is a motor that is slightly down on torque compared to its rivals but offers similar or better power levels. The top of the range T6 engine develops 235 kW of power – closely matching the 6-cylinder engines of some competitors.
4. It represents one of the biggest advancements yet in turbo technology
Volvo has debuted a clever new technology on all diesel engines in the range, called PowerPulse. Put simply as possible, an electrically powered compressor forces air into a small vessel, constantly ensuring it is topped up. At standstill and low speeds when brisk acceleration is required, a high-pressure burst of air is released into the exhaust stream running through the turbocharger. This spins the turbo up much quicker at low rpm and helps reduce turbo lag. It's brilliant in theory and in practice works very well, dealing with one of the more persistent downsides of otherwise refined turbodiesel engines.
5. True to Volvo, it's full of safety tech
Volvo's City Safety system now works in night and day time driving conditions, constantly monitoring the road ahead and auto-braking if a collision with a car, human or large animal is imminent. Volvo is working in countries around the world to train the system to better recognise the particular wildlife of that region.
The car will crawl in traffic automatically, which is a very handy feature, and the Pilot Assist function now works up to 130 kph, steering between the lines on highways and working with the radar-guided cruise control to provide a more relaxing motorway experience. We tested the system in Spain and while it certainly works, like most systems of its kind it can be easily confused and can deactivate mid-corner. The driver always needs to be alert.
Run-off road mitigation is a new feature which works by scanning for the edge of the tarmac and doesn't rely on a painted line. If it detects the car is wandering off the road, the system will apply corrective steering inputs. Understandably, we didn't put this system to the test.
The S90 will arrive in South Africa in October, with prices starting at around R650 000. Sadly the elegant V90 will not be brought in due to low demand, but Volvo SA has said they might review that decision if the demand grows.
More S90 content:
For our First Drive review, see here.
Volvo S90 R-Design Coming to SA in 2017
More XC90 content:
Volvo XC90 T8 Twin Engine (2016) First Drive
Audi Q7 3.0TDI Quattro vs Volvo XC90 D5 Inscription (2016) Comparative Review (with Video)
Interested in buying a Volvo?