Two men. Three letters. One vision. AMG has a reputation for building some of the world's most alluring sportscars. Mercedes-Benz's Affalterbach-based performance division has indeed produced a multitude of potent machines, but none more brutal than these...
Few can dispute the fact that Mercedes-AMG cars are all about noise, emotion and aggressively-shaped sheetmetal. Those 3 venerable letters, often accompanied by an outrageously bold numerical number on a Benz's boot lid, have always signified the most visceral models in Mercedes-Benz's portfolio. It all started in the 1960s, when Mercedes engineers, Hans Werner Aufrecht and Erhard Melcher were forced to start their thing after Daimler-Benz ceased all motorsport activities at the firm.
Their very first job was to ensure the 300 SEL's engine was powerful and responsive enough to compete in the German Touring Car Championships (DTM). In 1965, the AMG 300 SEL 6.8 won that very Championship in the hands of former colleague Manfred Schiek – it went on to win another 10 times and was dubbed the Red Pig due to its somewhat unorthodox appearance. In 1967, Aufrecht and Melcher officially founded AMG skunkworks, which was eventually acquired by Mercedes-Benz in 1999.
1. Mercedes-Benz AMG 300 SEL 6.8 Red Pig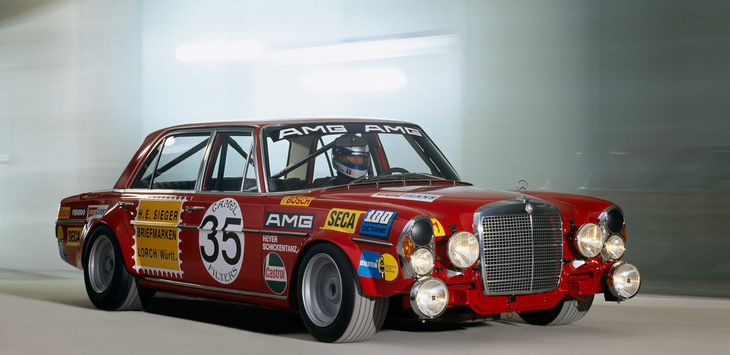 The 300 SEL was by no means a slug in its original state. In fact, it was the fastest road-going German road car of its era, but its near-2-tonne kerb weight would put it at a disadvantage in a racetrack environment. Still, the factory M100 6.3-litre V8 engine was good for 184 kW/588 Nm and a sub-7-second 0-100 kph sprint time.
With the goal of making it faster, more responsive and capable of competing with purpose-built race cars, Aufrecht and Melcher bored out the engine to 6.8 litres, which increased power and torque to 315 kW and 610 Nm respectively. Lightweight measures such as aluminium doors were added while the track was widened to maximise grip and traction. Other modifications included such additions as flared arches (to accommodate the protruding wheels_, racing suspension and the introduction of the AMG nomenclature. The car went on to perform incredibly on the race track, where it won its class and finished 2nd overall at the 24 Hours of Spa in 1971.
2. Mercedes-Benz 190E 3.2 AMG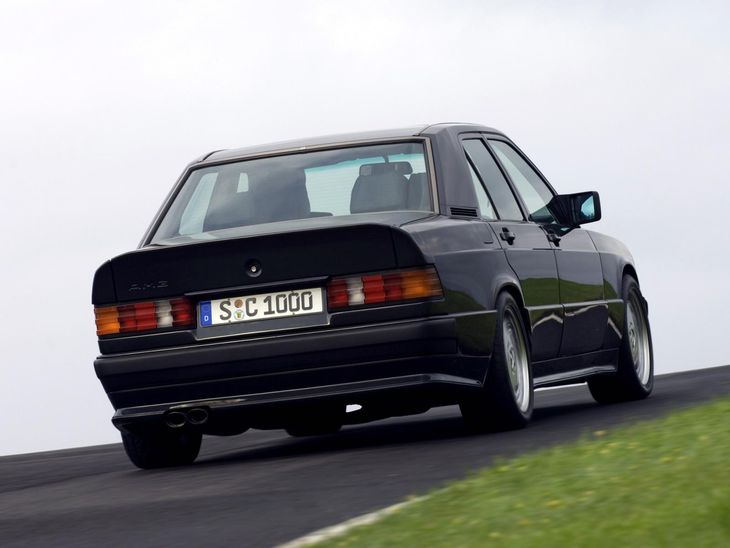 Affectionately known as the "Baby Hammer" due to its position as a more attainable version of the original the 300CE 6.0 AMG, the 190E 3.2 AMG offered more power and a far bigger AMG-fettled engine than any of its stablemates, including the winged 190E 2.5 16V Evolution I. It was produced in limited numbers (only around 200 were produced) and was the first AMG sold through Mercedes-Benz dealerships replete with a full manufacturer's warranty.
It came fitted with a raft of AMG-honed paraphernalia and hardware, such as an aggressively tempered AMG body kit and wheels, a tweaked suspension and braking system, an AMG-tuned 172 kW 3.2-litre in-line 6-cylinder motor and full Zebrano wood-trimmed interior. While by no means as feral as some of its descendants, the 190E 3.2 AMG paved the way for the contemporary, luxury-clad AMG. For those unable to secure one due to its limited availability, Mercedes-Benz sold the AMG body kits and engines separately, which could either be factory- or retrofitted.
3. Mercedes-Benz SL73 AMG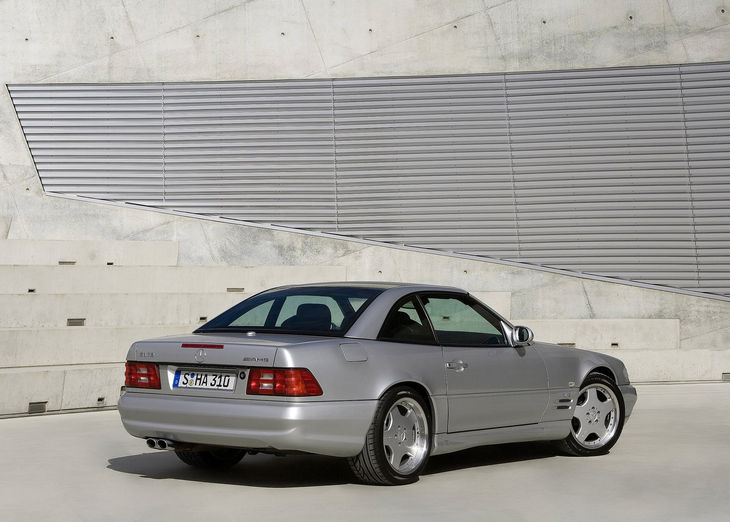 It may not have been particularly dynamic, but the SL73 AMG was more about that formidable lump in its engine bay than anything else, in this case, a 7.3-litre V12 good for 386 kW and 750 Nm. Naturally, this was a limited-edition model – only around 85 were built by AMG. Yip, customers had to buy a regular SL600 and pay AMG a handsome sum (around $50 000) to bore and stroke its monolithic V12 from 6.0- to 7.3-litres.
The result was a complete barbarian capable if rampaging from 0 to 100 kph in a blistering (for the time) 4.8 seconds and reaching a maximum speed of no less than 300 kph: those performance figures could embarrass Ferraris and the T-Rex-rivalling soundtrack sent shivers up people's spines. So impressive was the engine and its titanium internals that Horacio Pagani came in search of something substantial enough to power his Zonda supercar concept. Pagani's relationship with Mercedes gave the big 7.3-litre V12 a new lease of life where it served in various states of tune, the most powerful of which was the Zonda HP Barchetta rated at 590 kW and 850 Nm!
4. Mercedes-Benz CLK GTR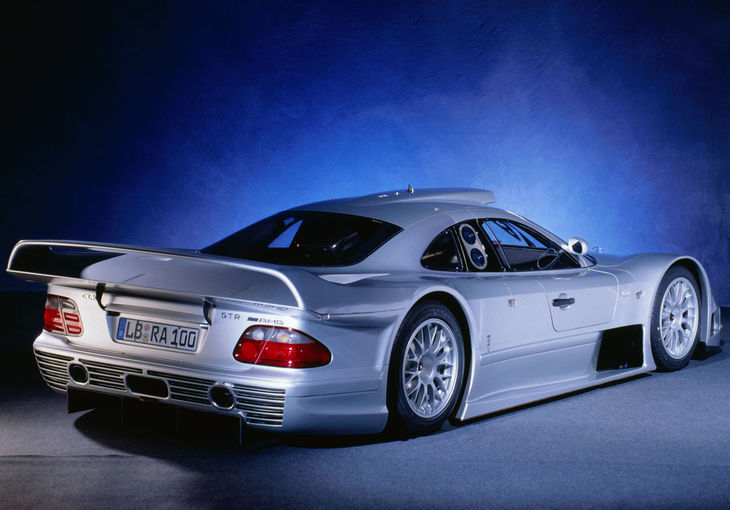 No model in the Mercedes-AMG history is as feral, as pure and as racy as the CLK GTR – and no car has since replicated its bewildering presence. The CLK GTR was a road-going version of the Le Mans GT racer – a complete and utter hooligan that was described by many as one of the most difficult cars to drive. Those with claustrophobic tendencies would struggle to come to terms with the cabin which was more race cockpit than anything else – prospective customers were encouraged to come for personal fittings to ensure some semblance of comfort.
The interior, however, did include touches of the original CLK with scatterings of switchgear and instrumentation but that's where the similarities ended (yep, no insulation or luxurious cocooning were availed. The analogue 450 kW/750 Nm 6.8-litre V12 mill revved freely and was not regulated by emissions laws and the like - here it lived in freedom, growling, snarling and shouting its credentials to the world.
5. Mercedes-AMG GT R Pro

Modern Mercedes-AMG offerings might not employ the big-bore mills of yesteryear, but they're just as ferocious, if not more so. In fact, modern technology has allowed engineers to eke out more power and performance thanks to a combination of turbocharging and AMG sorcery. The Mercedes-AMG GT R is one such example and has been described by the firm's chairman and CEO, Tobias Moers, as the fastest car in its class. Faster than the Porsche 911 GT3 RS. The Pro builds on these tenets by way of exclusive parts breathed on by AMG – new coil-over suspension, lighter torsion bars, composite ceramic brakes and special alloy wheels.
While the same 430kW/700Nm 4.0-litre V8 twin-turbocharged engine powers the rear wheels through a seven-speed dual-clutch transmission, it's the newly calibrated AMG Dynamic Stability Control (DSC) that equips it with a new-found sense of agility, particularly in a track environment. And yes, its bark is as lethal as its bite - sonorous and granular it pays homage to its natural aspirated forefathers with a soundtrack engineered to instil in its driver a sense of fear and respect, just like the models that came before it.
Mercedes-Benz SLS AMG GT 'Gullwing'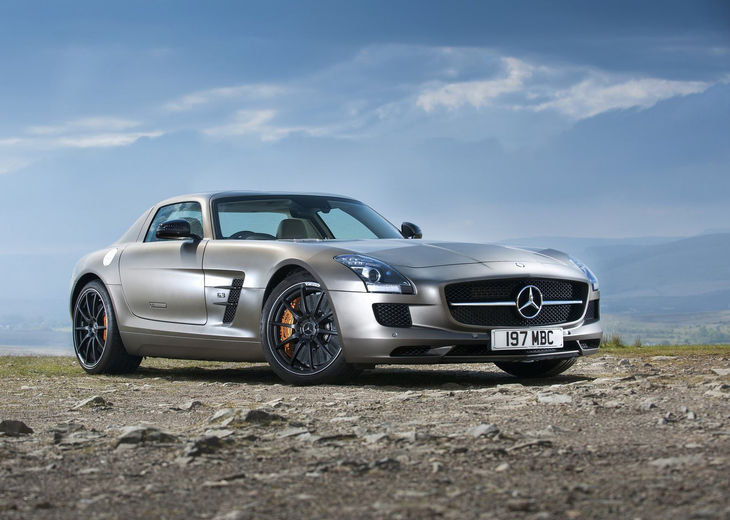 The SLS may have represented the first complete car built by AMG but it was also the last of the naturally aspirated era. During its five-year production run it the took the form of many iterations but just two attributes stand out - its gullwing door configuration, something that made for an incredible display of kerbside theatre, and its naturally aspirated 6.2-litre V8. Available in myriad states of tune it was more the engine's noisemaking abilities than performance credentials that tugged at the heartstrings of enthusiasts across the globe. Unsullied and pure, it filled the cabin with a rich, deep gut-churning thrum that culminated at just under 7000rpm. This often made it feel a helluva lot faster and more responsive than it actually was - something that subsequently forced many a driver to lift-off the throttle for fear of making contact with the horizon. Armed with 435kW, a 3.5 second 0-100kph sprint time and 320kph top speed it had a propensity for drinking gluttonous amounts of petrol but nobody cared.
Related content:
6 Highly Collectable SA Special Editions
The Conquest & Our Love Affair with Toyota Hatchbacks
5 South African Summer-Driving SUVs
5 moments that defined the A-Class story
Celebrating BMW M3 [with Easter Eggs & Videos]
Interested in buying a Mercedes-AMG?