The facelifted Volkswagen Golf GTI was launched in South Africa in the middle of May 2017. Here are 5 key things we think you should know about the latest iteration of the award-winning premium hatchback.
We recently attended the launch of the Volkswagen Golf GTI and came away deeply impressed... it's not surprising that it remains the premium hatchback champion in the Cars.co.za Consumer Awards – powered by WesBank (it defended its title in the 2016/17 instalment of our programme).
The South African market is peculiar insofar as the majority of Golfs that are sold are GTI derivatives. However, that sales statistic might change after the range expands in July 2017, because that will herald with the introduction of the (GTI-complementing, but turbodiesel-powered) Golf GTD, Golf R etc. The GTD will be priced around the R500 000 mark.
Read a full driving report of the GTI and GTD here.
1. It has more power

169 kW and 350 Nm from a 2.0-litre turbocharged petrol engine... Performance is brisk, but not edge of your seat.
It's not the biggest increase in power we've seen, but the fact is, it does offer more poke than the pre-facelift version. Power from the 2.0-litre 4-cylinder turbocharged TSI motor is rated at 169 kW, with peak torque coming in at a hefty 350 Nm. These outputs may sound familiar and they should: they match those of the outgoing Performance Pack Golf GTI. Rumour has it the next iteration of the Performance Pack will slide into the market with 180 kW, perfectly positioned between GTI and the mighty Golf R.
What else do you need to know about the powertrain? Oh yeah, the manual gearbox has been discontinued (at least Volkswagen South Africa does not offer it). Those who are sad about that are in the minority: the vast majority of local GTIs are equipped with DSGs. Why'd you want a manual anyway? The DSG derivative is quicker, easier to drive and lighter on fuel?
2. The new interior screens are spectacular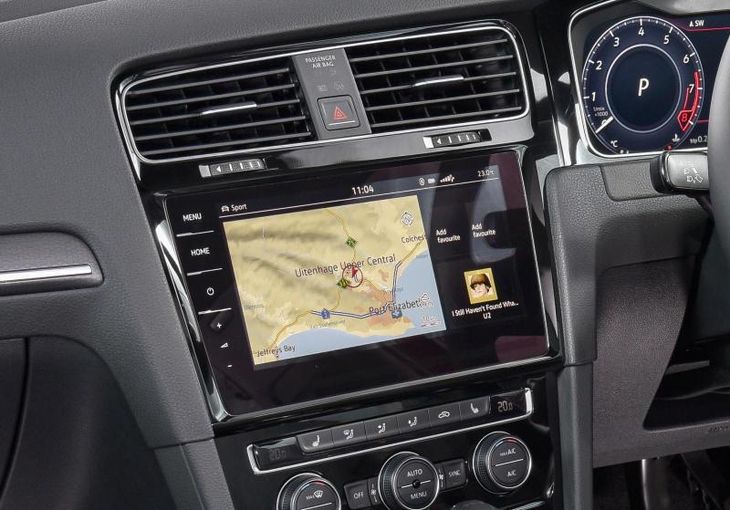 Discover Navigation Pro is the flagship infotainment system and while it's an optional extra, we think it's well worth the additional outlay.
The Volkswagen Golf now features larger and more detailed infotainment touchscreens. Some of those are admittedly optional extras, but given their quality, well worth ticking the box. On our drive of the 2017 Volkswagen Golf GTI, our test car came fitted with the 9.5-inch Discover Navigation Pro system. Discover Pro is a full touchscreen unit with gesture control. Not only is the unit's integration into the dashboard beautifully finished, but the graphic quality is top-notch. Tech fans take note of the resolution: 1280x640!
3. This new Golf boasts semi-autonomous technology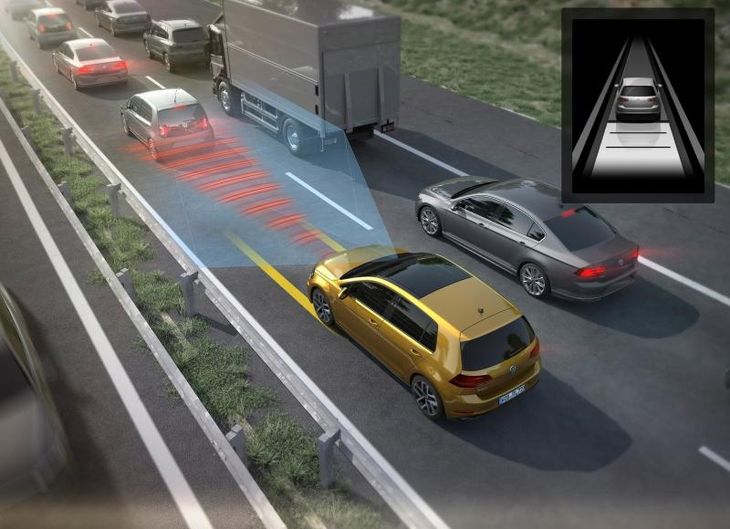 Volkswagen Traffic Jam assist is able to track the vehicle in front of it and keep the Golf in its lane at speeds of up to 60 kph.
The new Volkswagen Golf is able to drive semi-autonomously at speeds of up to 60 kph. This is called Traffic Jam Assist and forms part of the Golf's Autonomous Level 1 specification. Technically, the onus is on you as the driver to still do the majority of the driving, but the car is able to step in and take some of the work off your hands.
There are also tech assistance systems such as Trailer Assist, which removes the complications around towing trailers and caravans, as well as the third generation of Volkswagen's Park Assist, which according to VW, "makes it possible to park semi-autonomously in any parking space that is parallel or perpendicular to the carriageway. For perpendicular parking spaces, not only is parking in reverse supported for the first time in a Golf, it is also now possible to drive into a parking space semi-autonomously."
4. The looks have changed slightly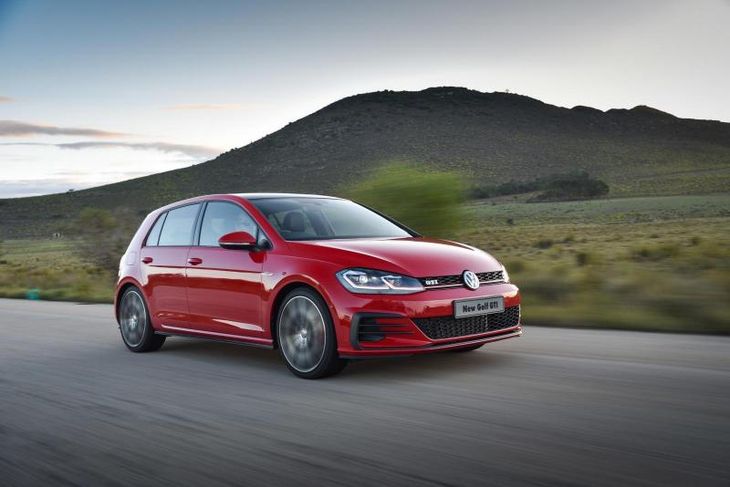 The big changes are redesigned bumpers and revised headlights. These lights are now full LED units.
The new Volkswagen Golf GTI has received some visual changes in the form of redesigned bumpers, bigger exhaust tips, new alloy wheel designs, full LED headlights, LED tail lights (with pulsing directional indicators) and you'll notice a notable amount of red detailing around the headlight modules.
5. You can go to town with the options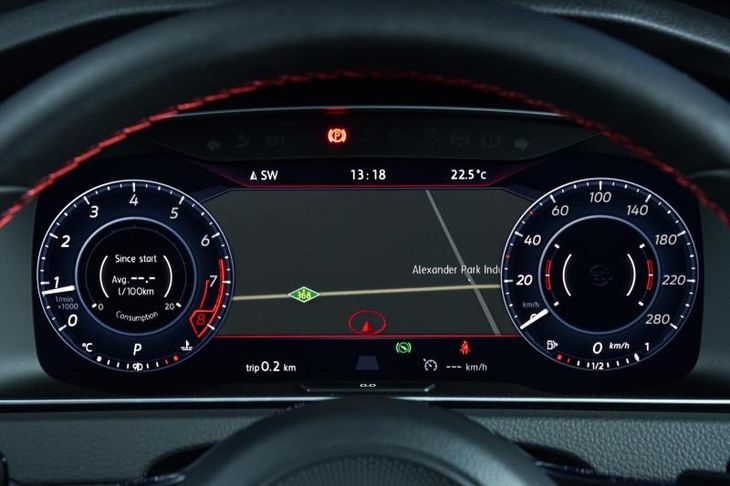 Active Info Display is an option well worth investigating. If you spec it, you will need to include the satellite navigation option too.
Being a Volkswagen, you can tick multiple options to suit your individual needs. However, if you're not careful, you can easily add a substantial premium the already hefty price tag (R545 800). That said, if you've got the cash to spend, then we can highly recommend the Active Info Display digital dashboard (R8 000), the Discover Pro Satnav Infotainment system (R20 200) and Adaptive Chassis Control (R12 700).
Facelifted Volkswagen Golf – prices in SA
81 kW 1.0 TSI Trendline R289 900
81 kW 1.0 TSI Comfortline R304 200
92 kW 1.4 TSI Comfortline DSG R356 400
81 kW 2.0 TDI Comfortline Price to be confirmed at a later stage
130 kW 2.0 TDI GTD DSG Price to be confirmed at a later stage
169 kW 2.0 TSI GTI DSG R545 800
213 kW 2.0 TSI R DSG Price to be confirmed at a later stage
Further reading
Volkswagen Golf Facelift Revealed [with Video]
Volkswagen Golf GTI Clubsport S (2016) First Drive
Volkswagen Golf GTI Clubsport (2016) Video Review
Volkswagen Golf GTI Clubsport (2016) Review
Is The Golf Segment Dying?
Comparative Review: Opel Astra vs Volkswagen Golf 7
Would you like to buy a Volkswagen Golf?