The next-generation Ford Ranger is expected to be unveiled during the first half of next year and may arrive in local showrooms in late 2021 or early 2022. A second speculative render has now appeared, which seems to confirm that the longer, wider bakkie will sport macho "US pick-up truck" looks. Plus, there is a possibility of a 3.0-litre twin-turbo petrol derivative sitting atop the range in Raptor guise...
Last month, Aussie site CarExpert.com.au published a render of the upcoming bakkie and now its rival site, CarAdvice.com.au has done the same – and their speculative designs look remarkably similar. The latter site now reports that the next generation of the global bakkie (ostensibly based on the Australian-developed T6 platform) will be marginally longer and have a wider track than the current Ranger. Most notably, the distance between the cabin and the front wheels is said to have been lengthened (plus the enlarge bay enlarged) to accommodate wider V6 powerplants, which the range doesn't currently offer, but is anticipated to be part of its successor's line-up.
More recently, it was confirmed that the next-generation Volkswagen Amarok would be based on the Ford Ranger and that the German company's upcoming double cab would be produced at Ford Motor Company of Southern Africa's Silverton plant from 2022; in other words, many of the details below may pertain to the next Amarok as well.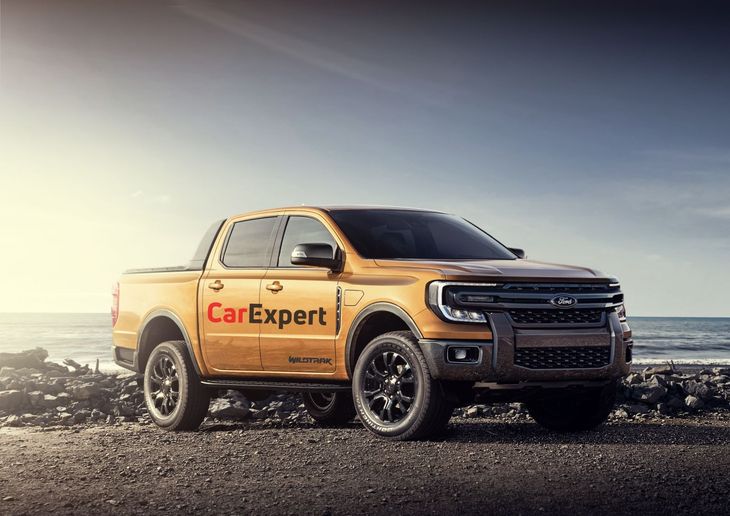 The Ford Ranger render that CarExpert published last month shows some strong F-150 influence. We like it!
2022 Ford Ranger
CarAdvice's render, created by Theophilus Chin, suggests the upcoming Ranger will feature distinctive extended grille bars and C-shaped DRLs to will help its exterior design tie in with that of the wildly popular Ford F-150, alongside which the Blue Oval's next-gen one-tonner will be sold in North America.
The bakkie's off-road approach and departure angles are expected to be improved, substantial changes will be made to the bakkie's suspension geometry" to improve both on- and off-road performance", while the rear bumper will feature a new towbar design and side-step recesses to make it easier to climb into the load bed, the site said.
The venerable 3.2-litre 5-cylinder turbodiesel motor received a stay of execution with the recent facelift, but will be discontinued for the next range, with the engine lineup focusing on the 2.0-litre single- and twin-turbocharged diesel engines. This bi-turbo motor produces 157 kW and 500 Nm and is mated with a 10-speed auto 'box.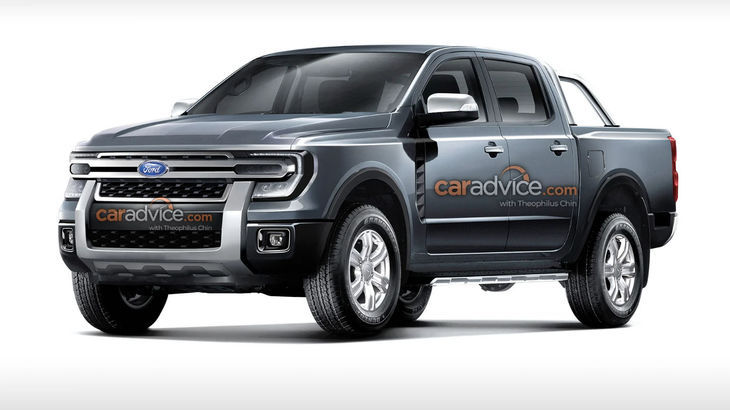 The CarAdvice render shows more brightwork on the front end; it seems the "baby F-150" look is all but confirmed.
Broader engine line-up mooted
As we recently revealed in the How the AmaFord changes everything opinion piece, Ford's 3.0-litre Power Stroke V6 turbodiesel, as featured in the F-150, is likely to feature in both the next-generation Ranger and Amarok (in combination with the Ford's 10-speed automatic transmission). The Power Stroke turbodiesel is rated at 186 kW and 600 Nm and gives the F-150 a tow rating of just over 5 tonnes, which should make Ranger owners who like to tow things like horseboxes and boats more than happy.
While Ford South Africa doesn't offer a petrol-powered Ranger in its portfolio, there is a 2.3-litre turbocharged 4-cylinder motor available for its overseas markets. For the 2022 Ford Ranger, this motor may be paired to a plug-in hybrid system, although that might not be of as much consequence to the local market as North America, for example.
Petrol-powered Raptor?
Apart from the strong likelihood that the aforementioned Power Stroke turbodiesel will be used in the next-generation Raptor, CarAdvice reports that Ford is considering to transplant the 3.0-litre V6 twin-turbo petrol engine from the North American market's Explorer ST into the next-generation Raptor. The motor, which is also mated with the 10-speed automatic transmission, produces peak outputs of about 300 kW/560 Nm, which helps the ST-badged Explorer achieve a claimed top speed of 230 kph.
Meanwhile, it's widely acknowledged that the Ranger is already the "most connected bakkie" in our market thanks to its feature-rich SYNC3 infotainment interface. Still, you can guarantee that Ford will go all out to ensure this market advantage continues with the next generation bakkie...
Reports suggest that apart from a new digital instrument cluster, higher-spec derivatives will feature a 12.8-inch portrait infotainment screen replete with wireless Android Auto and Apple CarPlay, while SYNC4 and a smartphone app called Ford Pass, which enables owners to locate, lock and unlock the car remotely, are also expected to be offered.
CarAdvice further suggests that the next-generation Ranger will have a significantly upgraded suite of safety features, although we stress that not all of these may not be of consequence to the local market. Ideally, top-spec examples of the newcomer could benefit from disc brakes all round, a centre airbag (designed to deploy between the front seats), blind zone warning, rear cross-traffic alert, a surround-view camera, over and above autonomous emergency braking, adaptive cruise control and traffic sign recognition.
While we know that production of the next-generation Amarok at Ford's plant in Silverton will commence in 2022, we expect the next-generation Ranger to roll off the line a bit sooner, but we don't yet know when. Suffice to say we'll bring you more updates as and when they become available...
Further Reading:
Next Volkswagen Amarok to be built in SA
How the AmaFord changes everything
2022 Volkswagen Amarok: What We Know So Far