Thanks to a substantial leak, we now know what Ford will be doing with its 2022 Everest. Here are all the details regarding the updated 7-seater SUV.
We compiled a very detailed report on the 2022 Ford Ranger, which you can read here. Now, thanks to the same source, we get some insight on what the future holds for the 2022 Ford Everest.
CarExpert.com.au has supplied comprehensive details including powertrains as well as levels of trim. The big changes are the introduction of a new 6-cylinder diesel engine as well as a plug-in hybrid petrol option. In terms of the fun stuff, it's claimed Ford will be giving its Everest a bit of a Raptor vibe with what's being called the 'Wildtrak X". It will also gain a tech upgrade with a larger infotainment screen, SYNC4 and wireless Apple CarPlay/Android Auto.
The venerable 3.2-litre 5-cylinder turbodiesel motor will be discontinued, with the engine lineup focusing on the current 2.0-litre twin-turbocharged diesel setup. This motor has 157 kW and 500 Nm, and that's mated to a 10-speed automatic transmission. A 6-cylinder turbocharged diesel motor makes its debut in the 2022 Ford Everest and the article claims healthy outputs of 186 kW and 600 Nm. Engine fanatics will be pleased to know this is one of Ford's Power Stroke motors and it can also be found under the bonnet of the Ford F-150. This engine gives the F-150 a tow rating of just over 5 tons
Now, this is where things get interesting. While Ford South Africa doesn't offer a petrol-powered Ranger in its portfolio, there is a 2.3-litre turbocharged 4-cylinder motor available for its overseas markets. For the 2022 Ford Ranger, this motor will be paired to a hybrid plug-in system and the claimed numbers make for fascinating reading. How does 270 kW and 680 Nm grab you? What about the claimed combined fuel economy of just 3.0 L/100 km? We know Ford globally is pushing electrification hard, with the reveal of the Mustang Mach-E and the rest of the portfolio is due to receive some form of plug-in hybrid tech sooner rather than later.
The 2022 Ford Everest Wildtrak X will be offered with the 6-cylinder turbodiesel engine and given Bilstein shocks, BF Goodrich all-road tyres as well as rock sliders. This sounds like Ford is attempting to make a high-performance offroad version of the Everest, which sounds like a lot of fun. It's already capable in standard guise, so we're keen to see how it will perform with more appropriate suspension and purpose-built rubber.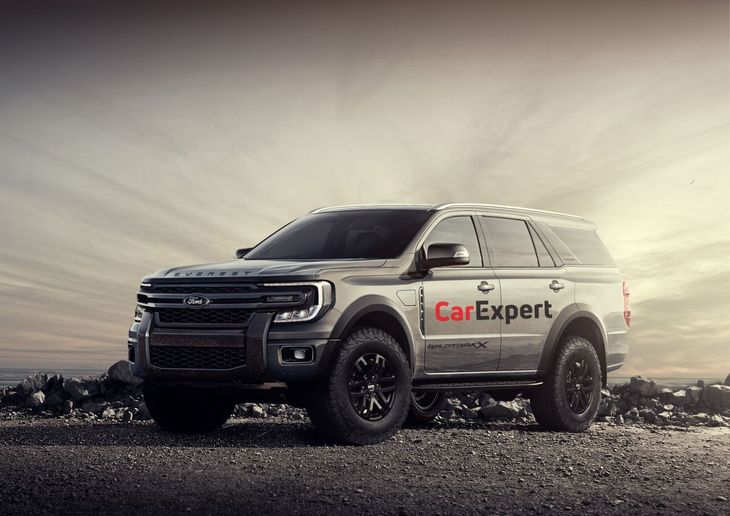 A render of the 2022 Ford Everest Wildtrak X, complete with offroad tyres.
Further Reading
Ford Everest 2.0 Bi-turbo 4x4 XLT (2019) Review
Ford Everest 2.2 XLT Automatic (2017) Quick Review