After what feels like an eternity of teasers, the eagerly anticipated Toyota Supra has finally been officially revealed. We can share all the official details and confirm that it is coming to South Africa in the middle of 2019.
Fans of the Toyota Supra can finally breathe. After 17 years, the all-new Mk 5 Toyota Supra has been officially revealed at the 2019 Detroit Auto Show. Based on the outrageous FT-1 concept from 2016, this new Toyota Supra looks bold and aggressive, which should keep petrolheads happy.
For those who aren't aware, the 2020 Toyota Supra is a result of the Japanese brand and German brand BMW working together. The Germans created the new BMW Z4 and while there are mechanical similarities, the two cars are quite different in execution.
Under that curvy and striking body is a 3.0-litre twin-scroll turbocharged 6-cylinder motor. It produces 250 kW and 495 Nm. Power goes to the rear wheels via an 8-speed automatic transmission and Toyota claims that it's offering will hit 100 kph in just 4.1 seconds.
It's the under-the-skin details which have us interested. Toyota is claiming a 50/50 weight distribution, high structural rigidity, and a low center of gravity which should make for an entertaining drive. While the platform is shared with BMW, Toyota tuned the spring and shock absorber settings for the new double-joint spring strut front suspension and multi-link rear suspension. Toyota also set specific parameters for the Supra's stability control system performance. Adaptive Variable Suspension is standard and features 2 modes: Normal and Sport. There is also an active differential.
Toyota is marketing its new Supra as a premium Grand Tourer and there will be considerable premium features fitted like Keyless Smart Entry, dual automatic climate control, auto-dimming rearview mirrors, rear camera, rain sensor windshield wipers, garage door opener, power folding mirrors, and a leather-wrapped steering wheel will be standard. There will be a high-end multimedia setup, satellite navigation, Apple CarPlay as well as a JBL audio system, but we're going to wait for official local confirmation to see what SA-spec Supras will receive in terms of tech.
The latest safety features will be fitted too and these range from forward collision warning, automatic emergency braking with pedestrian detection, lane departure warning with steering assist, automatic high beam and road sign assist. Toyota claims there will be additional features such as adaptive full speed cruise control, blind spot monitor, rear cross traffic alert and rear-end collision warning.
The 5th generation Toyota Supra will come in various levels of trim and while it hasn't been officially confirmed, there are talks of 4-cylinder turbo motors too. A leaked document from gearbox specialists ZF suggested that another BMW engine has been chosen. The 2.0-litre turbocharged B48B20 pushes out 195 kW and should be revealed in the coming months.
We're hoping that the similarities between the new Supra and the new Z4 are just on paper, and the two are completely different animals to drive.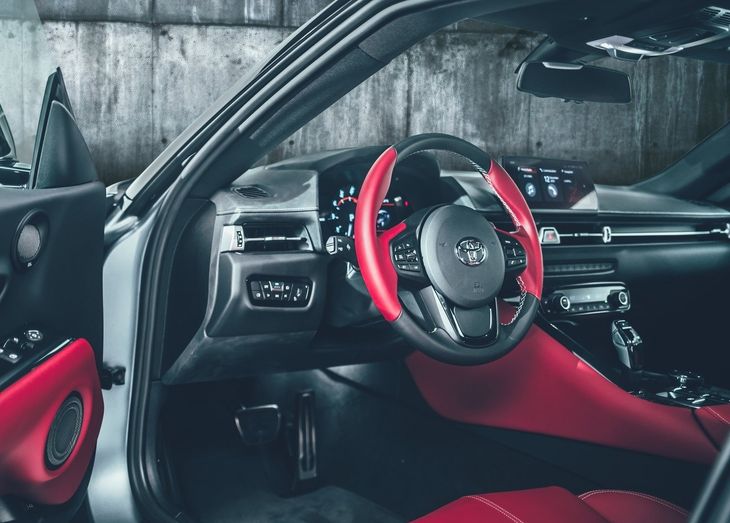 There is quite a bit of BMW componentry in the Toyota Supra, but we hope it does not detract from the driving experience.
Further Reading
Toyota Supra Video