The all-new Mercedes-Benz GLA is due for a reveal on 11th December 2019. Here's what we know about the German compact SUV.
Built on the Mercedes-Benz A-Class platform, the 2020 GLA's countdown to a reveal has begun. Scheduled for 11th December 2019, the all-new Mercedes-Benz GLA will offer increased dimensions and more luxury fittings than the current model.
As far as engines go, we expect the 2020 Mercedes-Benz GLA to adopt the same powertrains as those seen in the A-Class, B-Class and CLA. Kicking off the range should be the GLA 200 with a 1.3-litre turbocharged 4-cylinder motor with 120 kW and 250 Nm, followed by a GLA 250 with a 2.0 turbo delivering 165 kW and 350 Nm. Diesel fans should be able to get there hands on the GLA 200d with a 2.0 turbodiesel delivering 110 kW and 320 Nm.
Like before, there's going to be some potent AMG versions, with GLA 35 and GLA 45 S. Both have turbocharged 4-cylinder motors packing 225 kW/400 Nm and 310 kW/500 Nm respectively.
Inside, you can expect a cabin not too dissimilar to that of the new-shape A-Class, complete with its extensive MBUX digital screen which stretches across the dashboard.
The countdown begins and we'll update you as soon as we hear more info.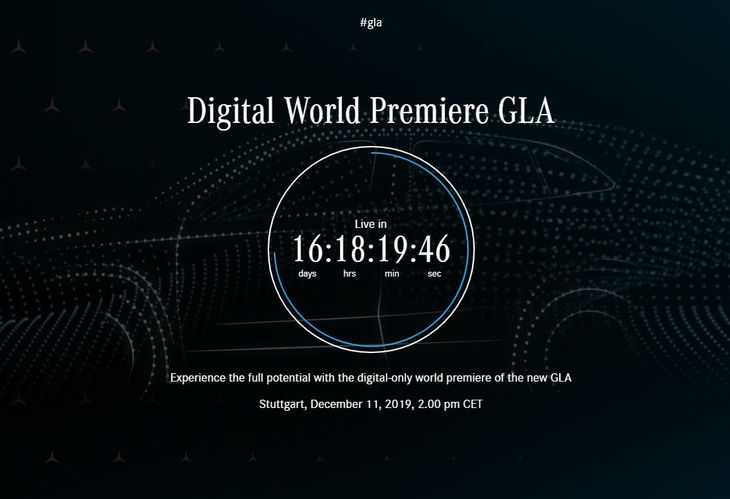 The coundown to the reveal of the 2020 Mercedes-Benz GLA
Further Reading
Spy Shots: 2021 Mercedes-Benz GLA
Spy Shots: 2020 Mercedes-AMG GLA 35 and 45
Drag Race: Mercedes S65 AMG Coupe vs Mercedes GLA 45 AMG Edition1