Pricing for the facelifted Mercedes-AMG C63 has been announced. Expect to see the newcomer arrive in South Africa shortly!
The most prominent visual change is the now standard Panamericana grille which beefs up the appearance significantly. The outer air inlets and front bumper have been designed while the rear twin tailpipes with high-gloss chrome trim and rear diffuser have also been reworked. As for the interior, a host of new trim and equipment will be offered on the AMG C63 range. The model benefits from a new flat-bottomed AMG steering wheel wrapped in Nappa leather and fitted with new Touch control buttons. A fully digital 12.3-inch instrument cluster will be available as an option as well as heated and climatised AMG performance seats.
The biturbo 4.0-litre V8 engine continues to do service under the bonnet and outputs remain the same as before. In the AMG C63, it will offer 350 kW and 650 Nm while the more powerful C63 S will pack 375 kW and 700 Nm. The big news, however, is that the previous 7-speed automatic is now replaced with a new 9-speed, wet clutch automatic. Acceleration performance remains the same with the C63 sprinting from zero to 100 kph in 4.1 seconds and the C63 S being slightly quicker at 4.0 seconds.
Track fanatics should be very excited by the new Mercedes-AMG C63 S. The driver has been prioritised in the slight redesign of the cabin, and the first adornments you're likely to notice on the new steering wheel are a pair of rotary controllers located under its spokes. These are programmable and instead of having to glance over to the centre stack to change your drive modes, gearbox and suspension settings, you can keep your hands on the wheel and do everything there instead.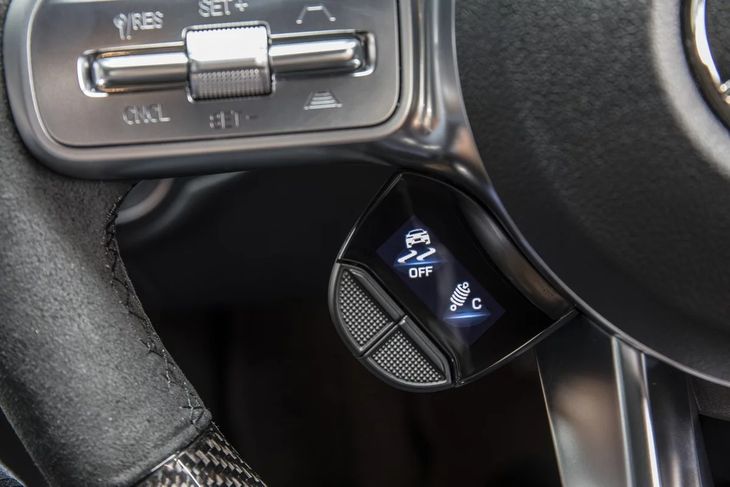 The new steering wheel controls bring added control and driver-focused performance to the C63 S
2019 Mercedes-AMG C63 Price in South Africa
We'll have a final confirmation on specifications and features when the vehicle officially launches.
C63 S Sedan R1 546 600
C63 S Coupe R1 609 100
C63 S Cabriolet R1 728 700
Further Reading