Fiat launches its new 124 convertible at the 2015 LA Motor Show and while it's essentially a rebadged Mazda MX-5, there are some crucial differences.
The news that Mazda and Fiat/Chrysler Group had been working on a convertible project car together is not exactly new. It appeared to be a perfect relationship, and Fiat would benefit from Mazda's expertise in the convertible sportscar segment. Fiat has a long history of little open top sportscars such as the cute Barchetta and it's been ages since we were last graced by the presence of such a vehicle.
The success of the Mazda MX-5 since its inception since 1989 has been phenomenal and the car has sold tremendously well over the years. The latest generation of MX-5 is in fact, parked outside our offices and our team are all extremely impressed by this model. One criticism of the car from petrolheads has always been a lack of power, something Mazda refused to address citing the MX-5 was never meant to be an out-and-out performer.
The Big News
Fiat has the answer to this problem and it's thanks to its range of compact turbocharged engines. Yes, finally, a Mazda MX-5 with factory turbocharged power! Sourced from Fiat/Chrysler, this engine does duty in numerous applications such as the Abarth 500, Alfa Romeo Giulietta and Fiat 500X. Power in the Fiat 124 is rated at 119kW, with torque coming in at 249Nm.
The new Fiat 124 is mechanically similar to its Mazda MX-5 twin as it too is rear-wheel drive and you get a choice of either six-speed manual or six-speed automatic transmissions. According to the marketing material, the Fiat 124 will be offered internationally in two trim options: Classica and Lusso. There are typical Italian-sounding colour schemes too with names like Rosso Passione (Red Clear Coat), Bianco Gelato (White Clear Coat), Nero Cinema (Jet Black Metallic), Grigio Argento (Gray Metallic), Grigio Moda (Dark Gray Metallic) and Bronzo Magnetico (Bronze Metallic).
The bottom line is that the Fiat 124 will offer much of the same driving experience that the Mazda MX-5 delivers so well. It'll be as light as the Mazda, involving to drive both on the limit and while cruising, and with the roof down, will be one of those perfect summer cruisers.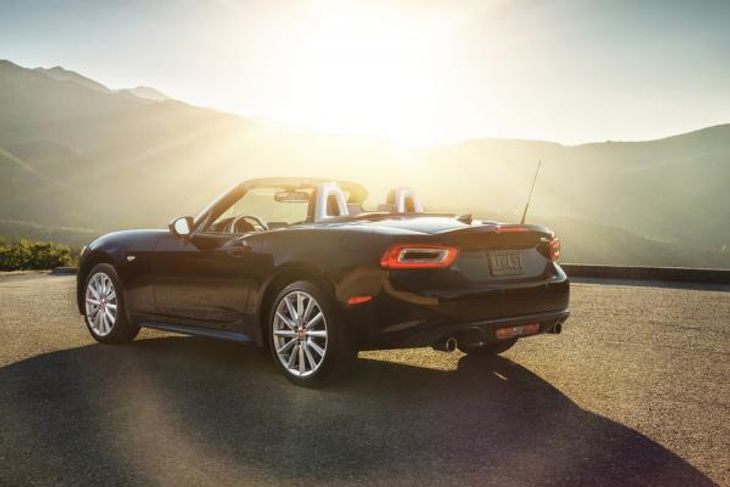 The name comes from the original Fiat 124 Sport Spider which was first built back in 1966. At the time of writing, we estimate that the Fiat 124 may make landfall around the middle of 2016. Assuming of course that the South African Rand doesn't take another nosedive and kill off any hopes of an Italian brand resurgance in our country.