Ford has created the Mustang Mach-E 1400 concept - a wild and crazy racer powered purely by electricity.
This wild electric racer is the result of a collaboration between tuning house RTR and Ford. The aim of this vehicle is to bridge the gap between what an electric vehicle can do and what customers tend to believe it can do.
There are 7 electric motors with 3 attached to the front differential and 4 attached to the rear. There's a single driveshaft, and cleverly the car can be set up for circuit racing or just pure electric tyre-smoking burnouts. Power delivery can be split evenly between front and rear, or completely to one or the other. Output is rated at 1 400 hp, which is just over 1 000 kW.
There's also a rejigged chassis as well as a trick aerodynamics package, to ensure the vehicle's handling is top notch. Power comes from a 56.8 kW/h battery, which is made up of nickel manganese cobalt pouch cells. The battery system features a di-electric cooling system and there's regenerative braking built into the Brembo anchors. A hydraulic handbrake is also fitted, for those who want to let the rear hang out.
"Getting behind the wheel of this car has completely changed my perspective on what power and torque can be," said Vaughn Gittin Jr., RTR Vehicles founder, motorsports champion and professional fun-haver. "This experience is like nothing you've ever imagined, except for maybe a magnetic roller coaster."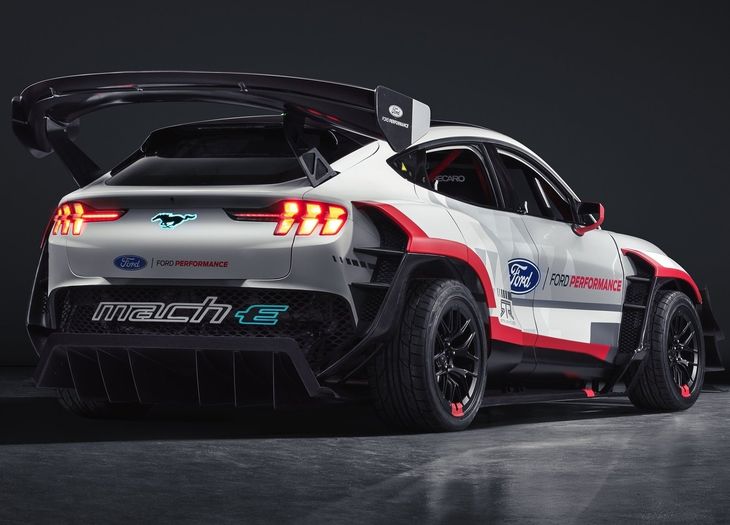 Further Reading
Ford Mustang Mach-E Drifting [w/video]
Ford Mustang Mach-E Officially Revealed
Ford resurrects Mustang Mach 1