The new, all-electric Fiat 500 is claimed to be the world's first "open-air 4-seater with zero emissions" and offers myriad charging solutions, a highly-connected interior and a uniquely Italian chime. Fiat enlisted 3 designer brands, as well as none other than Leonardo DiCaprio, to get behind its newcomer.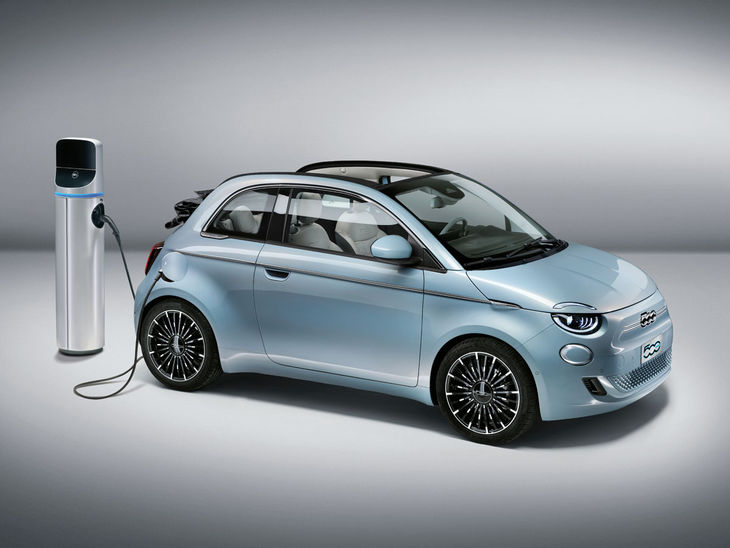 Although its predecessor remains in production, the New 500 is exclusively an EV, based on a brand new electric platform.
1. It has a 320-km range
The 500 EV, also known as New 500, will be produced at Fiat's re-tooled Mirafiori plant. It is powered by an 87-kW electric motor combined with a 42-kWh lithium-ion battery.
The Italian firm claims the new model can travel up to 320 km on a full charge (under the WLTP efficiency test), accelerate from 0-50 kph in 3.1 seconds, from 0-100 kph in 9 seconds and achieve an electronically limited top speed of 150 kph.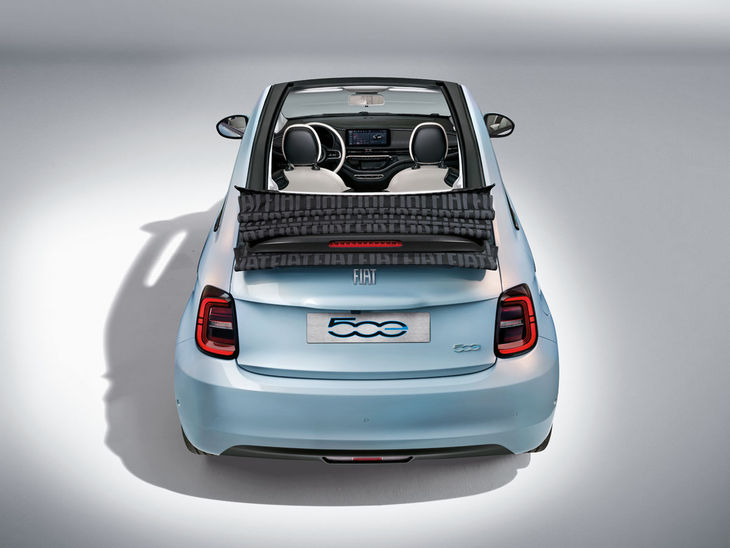 Fiat wanted to ensure it would be the first brand to offer an open-topped small electric car, that's why the newcomer's a cabriolet.
2. Socket to me: Charging options
With its standard 85-kW DC charger, the 500 EV can be recharged from flat to 80 per cent of its capacity in 35 minutes, plus it only takes 5 minutes to build up a charge to travel 50 km.
The model also comes with an Easy Wallbox home-charging system, which can be connected to a normal power outlet. The "plug-and-charge" 2.3-kW solution (manageable via Bluetooth) can be upgraded to a 7.4 kW capacity, which can charge the car fully in just over 6 hours.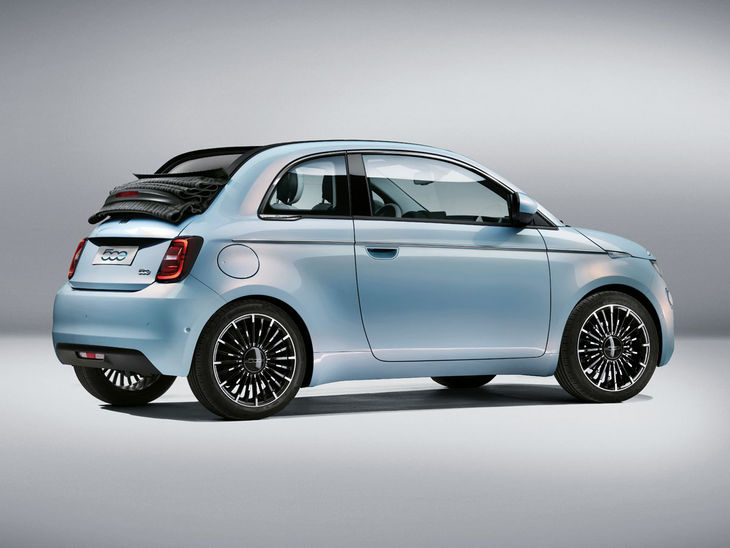 This La Prima (launch) version is finished in Celestial Blue; the New 500 will compete with the Mini Electric and Honda e.
3. Looks similar, but it's bigger
The 500 EV might look remarkably similar to its predecessor (which still remains in production), but it is 60 mm wider and 60 mm longer than the current car. The wheelbase has grown by 20 mm as well, yet the overall length of the "New 500" remains under 4 metres.
4. Sherpa drive mode
The New 500 has 3 driving modes: Normal (which mimics the on-road behaviour of a conventional-engined car), Range (which maximises regenerative braking and facilitates a 1-pedal driving style) and Sherpa, which works to conserve range to ensure that the car can reach either the destination set on the nav system… or the nearest charging station.
Just like a Himalayan Sherpa, who guides travellers to their destination, Sherpa mode adjusts various parameters: maximum speed (limited to 80 kph), accelerator response (to reduce energy consumption), plus deactivates the climate control and the seat-heating systems.

The front part of the 500's cabin looks quite spacious now that a transmission tunnel is no longer required.
5. Optimised connectivity
As the first Fiat equipped with the new UConnect 5 (10.25-inch) touchscreen infotainment system, the New 500 offers a host of functions through its customisable Android Auto-powered interface, plus its Telematic Box Module supports several connectivity services.
It goes well beyond (wireless) Apple Carplay/Android Auto compatibility, however. The Fiat's Natural Language recognition system allows occupants to control several of the in-car functions through voice commands, while My Wi-Fi offers an internet hotspot for up to 8 electronic devices and, of course, supports, Amazon Alexa voice assistant technology.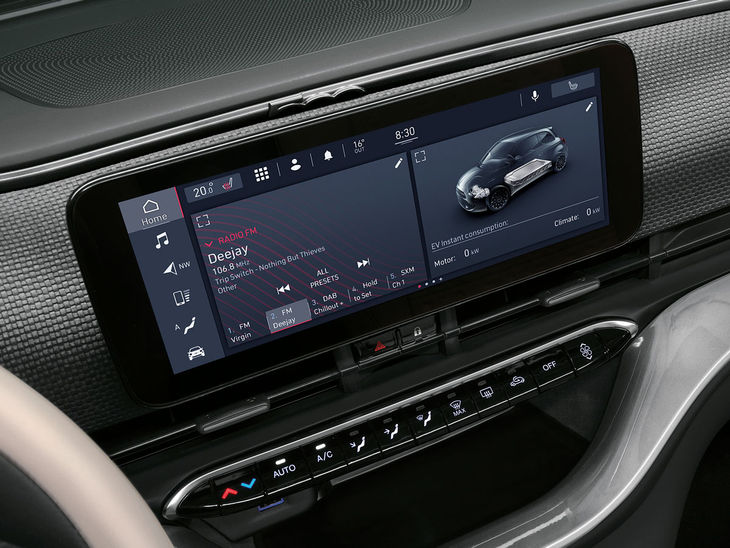 New 500 is the most-connected Fiat model ever in terms of onboard infotainment functions and smartphone integration.
With My Remote, drivers can check the status of their 500 (including its battery charging level) from their smartphones; schedule vehicle charging; find the exact location of the car; lock and unlock the doors; turn the lights on and off and program the climate control.
You can pre-programme destinations in the car's navigation system via an app (as well as check traffic conditions, the weather along the way and, importantly, the locations of speed cameras. You can also view charging points located near you by graphically locating on the map the points that can be reached based on the New 500's given level of battery charge.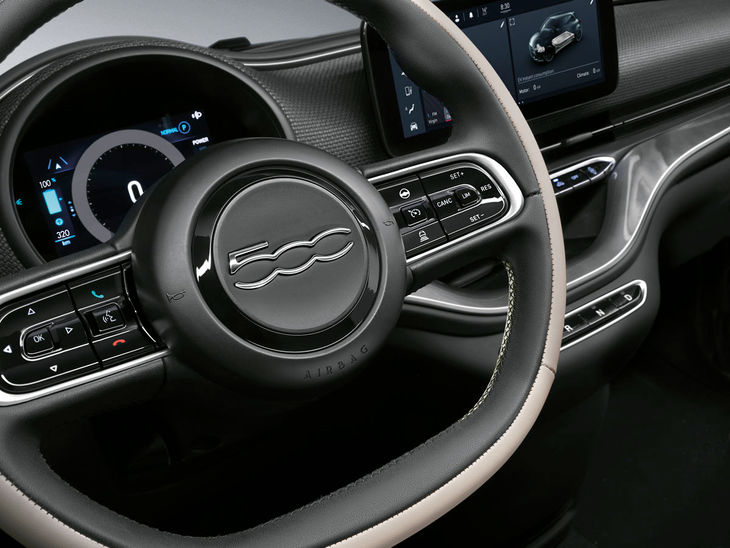 The newcomer comes equipped with a number of high-end safety features, including intelligent adaptive cruise control.
6. Level 2 Autonomy
Fiat's newcomer is claimed to be the first car in its segment to offer level-2 autonomous driving technology. Features include a front-facing camera, which works in conjunction with intelligent adaptive cruise control and supports autonomous emergency braking; lane-keeping assist; speed-limit road sign recognition; blind-spot monitoring and Attention Assist.
Meanwhile, 360-degree sensors help you to avoid obstacles when parking, the headlamps are automatically activated (with high-beam assist) and the parking brake is electrically operated.
7. La Prima launch edition
The "la Prima" launch edition of the New 500 is available in 3 colours: Mineral Grey (metallic), "reminiscent of the earth", Ocean Green (pearlescent), which "represents the sea" and Celestial Blue, an "a homage to the sky". It comes with equipped as standard with LED headlights, eco-leather upholstery, the aforementioned UConnect 5 infotainment system, a wireless charging pad, 17-inch alloys, chrome-plated inserts on the windows and side panels, as well the undeniably distinctive Fiat-logo embroidered Monogram Soft Top.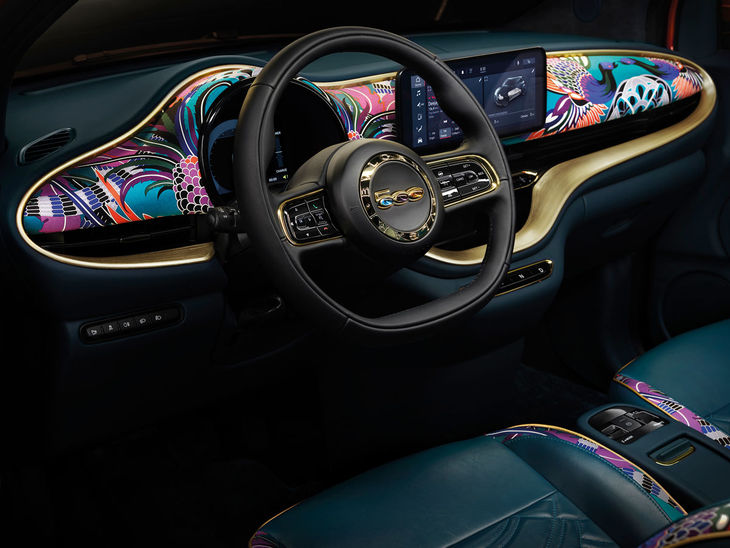 The one-off B.500 Mai Troppo version of the New 500 has, inter alia, a fascia inspired by heritage Bvlgari silk scarves.
8. DiCaprio! Armani! Bulgari! Kartell!
Oscar-winner Leonardo DiCaprio is well-known for this environmental advocacy and has, for over 20 years, been committed to combating climate change. Fiat says DiCaprio "embraced the philosophy of the New 500 and wanted to offer his endorsement for Fiat's mission". As such, he appears in the multi-part "All-in" video campaign for the La Prima launch edition in Europe.
But the star power does not stop there… Fiat worked with Armani, Bvlgari and Kartell to produce the first 3 unique and special examples of the New 500, each of which will be sold at auction, the proceeds of which will go to one of DiCaprio's environmental organisations.
Olivier Francois, president of the Fiat brand, gives a tour of the 3 designer "masterpieces"...

9. You can hear Italy coming…
One of the drawbacks of EV-powered cars is that unsighted pedestrians have difficulty hearing them, which is why it is mandatory for EVs to have an acoustic vehicle alert system (that operates at up to 20 kph). Whereas most EV manufacturers have chosen to equip their EVs with spacey, electronic whine-like acoustic "chimes", the "melody" that the Fiat 500 emits is programmable, much like a smartphone's ringtone. The sample that Fiat chose for its newcomer is from Amarcord by Nino Rota. If that isn't sheer dolce vita, what is?
Click below to hear the sound that the New 500 makes at low speed (compared with other EVs):

10. And what if you need another vehicle?
In recognition that an EV is not a multi-purpose car and that its owner will occasionally require a vehicle to use for recreation or make long-distance road trips with extra passengers on board, Fiat offers "My Dream Garage" – a new mobility service designed by FCA and Leasys, a leasing- and mobility company, exclusively for customers for the New 500.
It's a new subscription service that offers the electric 500's owner the option of booking any of the FCA Group cars "on-demand". That means customers can, from time to time, loan a vehicle they need to suit their needs: a 500X or 500L, an Alfa Romeo model such as the Giulia or Stelvio, or even an SUV such as the Jeep Wrangler, Compass or Renegade.
Related content:
EV Apocalypse is Closer Than You Think
Cinquecento-e: Fiat reimagines the 500
Electric Cars: Understanding the Terms
Jaguar I-Pace Vlog - Will Electric Cars Work in South Africa?